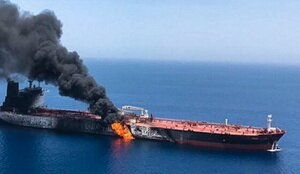 June 13, 2019, in the Gulf of Oman There Was an Attack on Two Tankers: "Kokuka Courageous" under the Panamanian flag (owned by Japan) and "Front Altair" under the flag of the Marshall Islands
In fact, this can already be perceived as a war at sea, and in response, one should expect nothing less than an action against the country that unleashed this war.
On the same day, June 13, US Secretary of State Mike Pompeo at a press conference accused Iran of "provocative actions that greatly complicated the situation in the Gulf". He emphasized that the United States would defend its forces and interests throughout the Middle East.
Washington has released a video that shows that "some people on a boat do something near the tanker". According to the USA's officials, those are IRGC fighters taking off the "Kokuka Courageous" tanker a mine, which has not exploded.
Tehran categorically rejects all the allegations. And even more so, it claims that all the seamen rescued from the blown up tankers were transported to the Iranian port of Jask, southern province of Hormozgan.